This entry was posted on August 18, 2016 by kidscavern.
Teddy bears, unicorns, glitter, fur and fluff – Autumn/Winter is all about the 'cute & kitsch' trend that has exploded over the older catwalks. This trend uses design of popular images and cultural icons to provide adorable fashion with a hint of humour.
This infectious trend has been spotted at top fashion houses such as Moschino and Dolce & Gabbana, using an array of charming logos, patches, textures and colours to produce cute, coherent collections.
The Moschino design team have used childhood inspiration to create a loveable teddy bear print, used in both their older and kid's lines. The teddy is used in both girls and boys collections, but our favourite item has to be the cool double strap white trainers. We also love the grey zip up teddy tracksuit from the baby range.
We can't take our eyes off the Oilily 'Hupz' sweater dress, which comes in a vibrant green with quirky unicorn applique to the front. The dress is super versatile, and the pretty print makes it a style winner for us.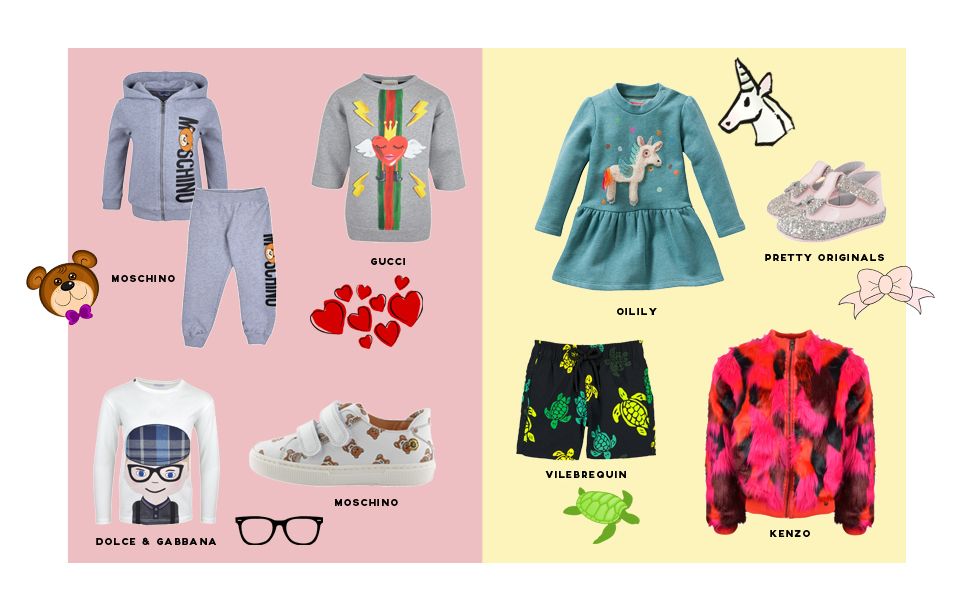 Designers are also making great use of textures and colours – Kenzo have stole our hearts with their full fur zip up jacket. It comes in fiery red in a cool bomber style – and it's probably the fluffiest thing we've ever seen!
Pretty Originals use glitter and bows in their new pre-walker range in sparkling gold and silver to add an extra special touch.
The pom-pom craze continues into Autumn with Billieblush. Their use of rainbow coloured pom-poms and letters is a cute quirky twist to their new season tu-tu tulle skirts.
Not one just for the girls – Dolce & Gabbana's new 'DG Family' range features cute hand drawings of the designers on their clothing. We have the long sleeve cotton top with Domenico Dolce to the front – a delightful edition to your boy's winter wardrobe. Our new brand Vilebrequin also takes a step towards this cute & kitsch trend with swimshorts in all over turtle print.
World renowned designer Gucci have also used pretty prints in heart shapes in their new collection with brands such as Little Marc Jacobs and Simonetta using an array of dainty patch style logos.
Keep an eye on the 'new in' section of our website and Instagram page for all the latest children's fashion landing at Kids Cavern.